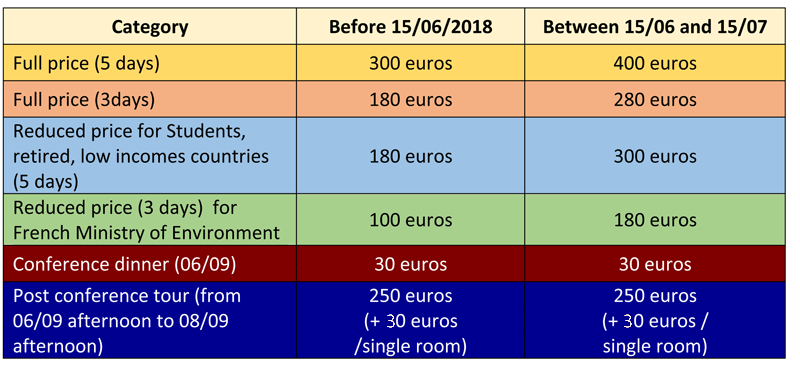 Registration fees include:
Free access to all meeting rooms, documents, coffee breaks, lunches, a packed lunch for the field trip, transportation from Clermont to Mende by bus and travel back on the Friday afternoon, guide and entrance fees for the field trips and local food tasting in Mende (Wednesday evening)
Fees do not include the cost of travel to the conference, accommodation or dinners during the conference. We have preregistered rooms at a negotiated price with different standards available in both Clermont and Mende. See specific information in the dedicated place.
For the 3 day option:
Monday to Wednesday: for the travel back please contact us
Wednesday morning to Friday afternoon: please take note that departure is scheduled for very early on the Wednesday morning, so we recommend that you arrive in Clermont on the Tuesday evening. If you are unable to arrive on the Tuesday evening you will have to join us in Mende by your own means.
For the Post conference tour, price includes: meals (except Friday evening), visits, wine tasting, local guides, transportation by bus from Mende to Perpignan (for the travel back several options are possible, please contact us), 2 nights in a hotel with bed and breakfast in double rooms. The number of participants is limited to between 15 and 30.